Saving landlords like you thousands of pounds
Howsy is the award winning alternative to letting agents
Landlording made easy
Howsy's mission is to make renting better for everyone. Howsy was born out of a frustration with traditional lettings agents, so we're re-inventing renting.
Why pay letting agent fees of 8-20% of your monthly rental value for property management? All of our plans are competitively priced, with fixed monthly prices with no surprises.
One of our core values is to never settle, we're constantly innovating to give you the best technology to make life easier.
Get a free quote
What's on offer?
We offer a range of services all designed with landlords in mind. Whether you're a D.I.Y landlord or want to be completely hands off, we've got a plan to suit you.
Howsy Connect:
Great for DIY landlords
Howsy Connect provides you with the technology to self-manage your properties. Advertise across leading websites, manage viewings, repairs and collect rent, all from the property dashboard. Just £25 set up fee and a £15 monthly fee.
Howsy Fully Managed:
Great for busy landlords
From finding tenants to managing repairs and collecting the rent, we'll look after the full rental lifecycle. If you're a busy landlord or have a portfolio of properties to manage, you can leave it all to us.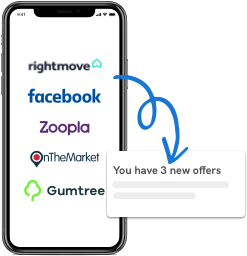 We find tenants
with both of our plans
Alongside our Fully Managed plan, for £99 we'll manage the entire process from arranging viewings to carrying out reference checks. Or for £25 with our connect plan we will give you the tools to manage the process yourself.
Upgrade to Howsy Protect
For ultimate peace of mind, upgrade your Howsy Fully Managed plan to include Howsy Protect. Secure your rental income, protect against appliance break downs and emergency home repairs. We've got you covered.
Discover Howsy Protect
Over see everything from anywhere
Howsy was designed & built by experts from companies like Zoopla, Microsoft, John Lewis & Paypal. We have re-imagined rentals, making them work for everyone. Most importantly we've designed our website and app to give you a level of control you need.

Our technology lets properties quicker, it keeps your tenants happier, it makes you more money and it allows you to oversee everything.
What's next?
We would be happy to talk to you over the phone. Or why not dive straight in for free and try our platform.
Speak to a specialist
0330 999 1234
Register today and try our platform
Try now for free
Save thousands, try our savings calculator
Get an instant quote